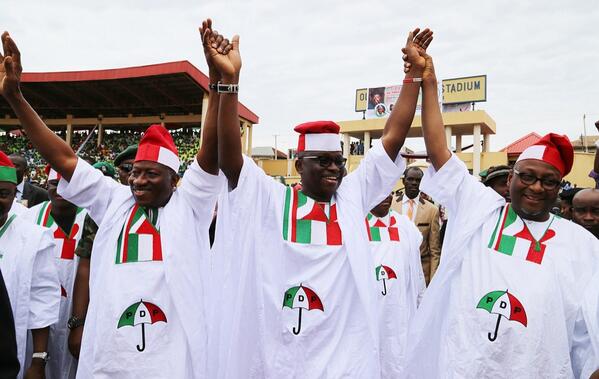 Ayo Fayose reiterates commitment to 'government of stomach infrastructure' in Ekiti

Newly sworn in Governor of Ekiti State, Dr. Peter Ayodele Fayose has expressed his readiness to pursue a government of 'stomach infrastructure' saying such agenda of his government will see to the welfare of the people of Ekiti. He also promised to appoint a Special Adviser on Stomach Infrastruture.
Fayose made these assertions immediately after he was officially sworn in as the Executive Gove

rnor of Ekiti State by the Chief Judge, Justice Ayodeji Daramola at the Inauguration ceremony held at the Oluyemi Kayode Stadium, Ado-Ekiti this afternoon(Thursday Oct. 16).
Fayose in company of his wife, Mrs Feyipitan Fayose who said his impeachment in 2006 is a 'truncated agenda' for the people of Ekiti emphasized, 'I will banish poverty among you(Ekiti People), I will continue the stomach infrastructure agenda with which they said we campaigned, we are not going to run government without the people's welfare on our mind. I am grooming your Christmas chicken, so as we are packaging your Christmas rice and I want to state it here that I will be appointing for the first time in history 'Special Adviser on Stomach Infrastructure. I want to replace poverty and want with plenty and prosperity'
'You know me to be a governor in the imagination of the people of Ekiti, not one in the imagination of their 'Lagos Lords', we will show them that God that gave us the second chance is not a god of mistake'
Fayose who brought 6 APC members of the Ekiti House of Assembly to officialy decamp to the PDP also used the privilege of the event to state the debt profile of the state.
'I love to state categorically here again that the Fayemi-led administration left as a baggage a debt of 'close to 84billion naira' while I also love to remind the people of Ekiti that I left 10.4billion naira in the coffers of the government in 2006 while I was unjustly and forcibly ousted out of office by some cabals hungry for power at all means'
'I will appeal to the Press to kindly give us a second chance just as God has done for us, the media should desist from aiding the 'self-acclaimed progressives' in the campaign of calumny and media propaganda against the person of Ayo Fayose and I know my government wont be pardoned'
Dignitaries present at the inauguration includes; National Chairman of the PDP, Alh. Adamu Muazu, Chairman PDP Governors' Forum and governor of Akwa Ibom State, Dr. Godswil Akpabio and his counterpart governors from Delta, Bauchi, Jigawa, Kaduna, Katsina, Kebbi, Cross River and Ondo state, also the immediate governor of Anambra, Dr. Peter Obi.